Coffee Service
Few things wake up our senses like the intoxicating aroma of fresh-brewed coffee. Snackworks' office coffee service brings the best to your office - from the latest in coffee brewers to a robust selection of both local and national favorite brands. Our customer-focused service team who keep your in-office coffee stations fully stocked, cleaned, and maintained ensure that you get to enjoy all the "perks" with none of the hassles! (And of course, we don't limit you to strictly coffee - we have a full complement of teas, cocoas, cider, and other warm beverages to power your day.)
Treat Your Team to the Best Selection
Dark Roast? Blonde? Doughnut Shoppe Blend? We've got them all!

Our private label coffee, Route 66® Custom Roasted Coffees, are available in 12 different roasts! And just in case that isn't enough seletion, we also offer some of the most popular national brands (Starbucks, Seattle's Best, Dunkin Donuts, Maxwell House, etc.), along with regional favorites (Joffrey's Coffee & Tea). Our extensive menu has been specially designed to provide a wide range of taste profiles and price points so that every customer can enjoy an excellent selection.
Signature Service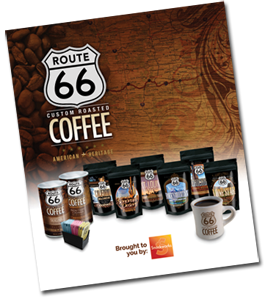 A varied selection of coffees, teas, and condiments is only the beginning of what defines Snackworks' office coffee service.
Are you satisfied with having a delivery person simply restock your coffee stations? Or are you looking for that personal touch which separates the professional office coffee service from the standard coffee delivery person? If you want and expect more from your office coffee company, we pledge that you will be greeted with a smile and a warm "hello" and that the following routine will be followed:
Pots cleaned or swapped for new ones
Clean coffee brewers
Manage inventory levels to predetermined par inventory values
Provide a printed and signed receipt.
And that smile delivered with your coffee? You'll always get it. Our finishing touches make the Snackworks difference!
""SNACKWORKS became our vendor of choice for Vending, Office Coffee Service, and Water Coolers in 2009, and we could not be more pleased. With multiple automobile dealerships, we have many different needs for products, equipment types, and sizes, and service intervals. SNACKWORKS can always be relied upon to provide us with excellent advice, attention, and service. I have a great deal of respect and regard for Lisa Leuchter and SNACKWORKS.""
— Fred Bartholomew , Fixed Operations Director
Gettel Automotive Group